Regular price
Rs. 4,999.00
Regular price
Sale price
Rs. 4,999.00
Unit price
per
Sale
Sold out
Introducing the P33 Sniper, a PINBALL-protected DSLR camera backpack designed to provide maximum convenience and protection for photographers. This waterproof backpack, complete with a dedicated rain cover, offers spacious storage and reliable gear organization.

The P33 Sniper features a backpack design, allowing you to comfortably carry your DSLR camera and accessories on your back. Its ergonomic design, padded shoulder straps, and adjustable sternum strap ensure a comfortable and secure fit, making it suitable for all-day use.

With its ample storage capacity, the P33 Sniper provides versatile storage options for your camera gear. The backpack's main compartment is designed to accommodate your DSLR camera body, lenses, flashes, and other essentials. Multiple accessory pockets and organizers allow you to keep your accessories, such as memory cards, batteries, and cables, neatly organized and easily accessible.

Constructed with waterproof materials, the P33 Sniper ensures that your camera and equipment remain protected from rain and moisture. The included rain cover adds an extra layer of protection, allowing you to confidently shoot in challenging weather conditions without worrying about water damage.

Equipped with PINBALL technology, the P33 Sniper offers comprehensive protection for your gear. The PINBALL system provides a warranty that covers any potential defects or malfunctions, giving you peace of mind and confidence in the backpack's durability and quality.

Whether you're traveling, hiking, or working on location, the P33 Sniper DSLR camera backpack is designed to meet the demands of professional photographers. It offers a combination of comfort, functionality, and protection, making it an essential companion for your photography adventures.

Incorporating SEO keywords: P33 Sniper, PINBALL-protected, DSLR camera backpack, waterproof, rain cover, spacious storage, ergonomic design, padded shoulder straps, adjustable sternum strap, versatile storage, main compartment, accessory pockets, organizers, waterproof materials, comprehensive warranty, comfort, functionality, protection, professional photographers, photography adventures.

Carry your camera gear with ease and confidence using the P33 Sniper DSLR camera backpack. With its spacious storage, comfortable design, and waterproof construction, it offers reliable protection and convenient organization for photographers on the go. Explore new horizons and capture stunning shots with the P33 Sniper as your trusted companion.
Share
View full details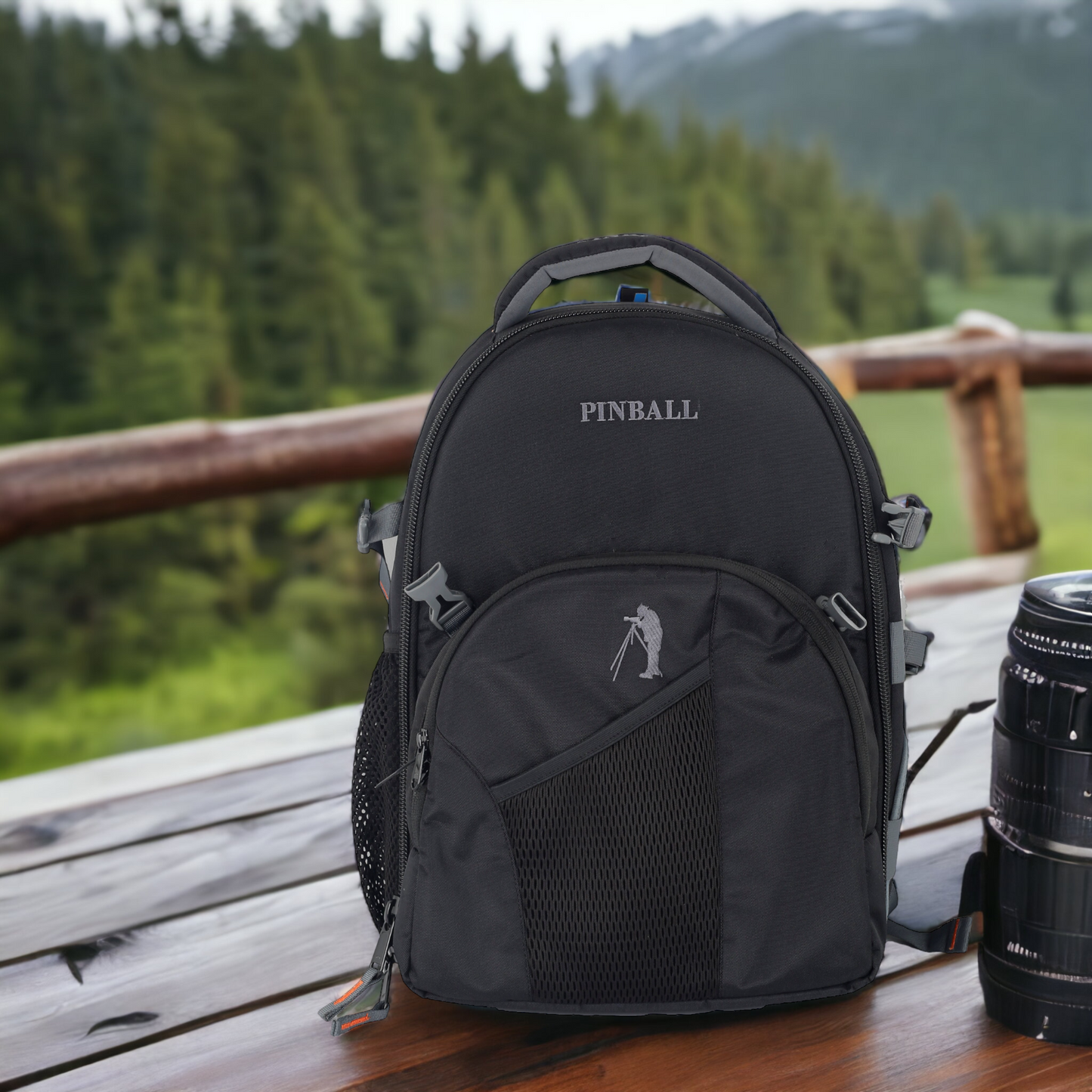 Impressive and Reliable: Pinball Sniper Camera Bag
I recently purchased the Pinball Sniper Camera Bag, and I must say that I am thoroughly impressed with its performance and functionality. As a passionate photographer, finding a camera bag that meets all my needs is crucial, and the Pinball Sniper exceeded my expectations in every way.
First and foremost, the build quality of this bag is outstanding. The materials used are durable, ensuring that my valuable camera equipment stays safe and protected during transportation. The bag's reinforced stitching and strong zippers give me confidence that it can withstand various weather conditions and daily use without compromising on its reliability.
The storage capacity of the Pinball Sniper is remarkable. It offers ample space for my camera body, multiple lenses, accessories, and even a dedicated compartment for my laptop or tablet. The customizable dividers allow me to arrange the interior according to my specific gear setup, providing easy access to everything I need while keeping it well-organized.
One aspect that truly sets the Pinball Sniper apart is its exceptional comfort. The padded shoulder straps and back panel distribute the weight evenly, making it comfortable to carry even during long photo shoots or when traveling to different locations. Additionally, the waist and chest straps provide extra stability, preventing the bag from shifting or causing strain on my shoulders.
The attention to detail in the design of this bag is evident. The exterior features multiple pockets and compartments, allowing me to conveniently store smaller items such as memory cards, batteries, and filters. The quick-access side pockets are perfect for keeping essential items within reach, like lens caps or a water bottle.
Another standout feature is the bag's excellent protection against theft. The concealed rear pocket provides a secure place to store my passport, wallet, or other valuable belongings while I'm busy capturing moments. This added peace of mind is invaluable, especially when traveling to unfamiliar destinations.
In conclusion, I highly recommend the Pinball Sniper Camera Bag to any photographer in need of a reliable, well-designed, and spacious bag. Its durability, ample storage capacity, comfort, and anti-theft features make it a standout choice. Whether you're a professional photographer or an enthusiast, this bag will undoubtedly enhance your photography experience and keep your equipment safe in any shooting situation.
Overall Rating: ⭐️⭐️⭐️⭐️⭐️